We are a Farmer-Led Organization
About Us
Smaller states with limited checkoff funding need to work together to fund research projects. Identifying those projects that can apply to multiple states will help to leverage those checkoff funds and enable a bigger impact. The Atlantic Soybean Council provides the opportunity for researchers and producers to identify common areas of research needed. Coordination of research projects will result in fewer duplications of projects. The collaborative nature of the Council provides for innovative projects to be developed and funded, and the results be disseminated by staff to a wider audience of soybean farmers and researchers with the potential to impact future research.
Objectives:
To identify gaps and replications in soybean research
To bring researchers and producers together to identify areas where multi state research can be beneficial
Board of Directors:
Chairman – Travis Hutchison (Maryland)
Vice Chairman – Cameron Gibson (Virginia)
Treasurer – Robbie Emerson (Delaware)
Bill Bibus (New Jersey)
Dale Brown (Maryland)
Emmaline Long (New York)
Nick Kercheval (Eastern Region)
John Harrell (Pennsylvania)
Research
The Atlantic Soybean Council (Council) combines soybean check-off funds from its member states to sponsor basic and applied research to increase soybean profitability and enhance yield, while maintaining or improving soybean composition, through genetic improvement and biotic and abiotic stress mitigation.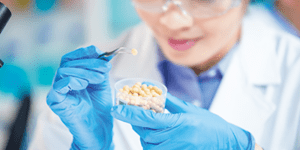 The Council accepts proposals annually to develop and coordinate a multi-state on-farm research program with the purpose of creating a multi-state on-farm network of replicated field experiments.  Results from this program and entered into a database that captures results over differing environments and will address common interest for the farmers in the member states.  Areas of interest identified by the Council include:
Farmer profitability (increase yields, optimizing inputs).
Wildlife damage management.
Nematode survey.
Dectes Stem Borer research.
Weed resistance.
Environmental issues, including climate change and water quality.
Overall disease stress and resistance.
Learn about ongoing and completed research from the Council and other soy states.
Resources
Soybean Research Database

This project was funded by the United Soybean Board to help all stakeholders find information about soybean research projects that are funded by the soybean checkoff. This database is nationwide and reflects projects starting in 2008 to date.

Soybean Research Information Network

Find information regarding soybean diseases, pests, diagnostic tools and more. Read curated summaries and highlights of the latest research.

United Soybean Board

The United Soybean Board — your soy checkoff — is governed by 78 farmer-leaders from across the country with one common goal: increasing return on investment for all U.S. soybean farmers. Whether it's through researching production practices, working with the supply chain or finding new markets for soy oil and meal both here and abroad, the soy checkoff has its farmers' best interests at heart when investing their funds for maximum ROI.
Get to know us!
Browse our newsroom or contact us.
Browse interesting stories and releases about us.
Use our form to contact our Executive Director, Danielle Farace.